Author:

Manuel Lemos



Viewers: 3

Last month viewers: 1

Categories: Interviews, Lately in PHP Podcast, PHP community


In this episode Chris Cornutt talks about his project sites PHPDeveloper.org PHP news site and Joind.in for promoting interaction between speakers and attendants of PHP conferences and other types of events.

A list of other worth listening podcasts for PHP developers was covered.

An interesting discussion was also held about the pros and cons of using Flex/Flash versus HTML 5/JavaScript in PHP Web applications.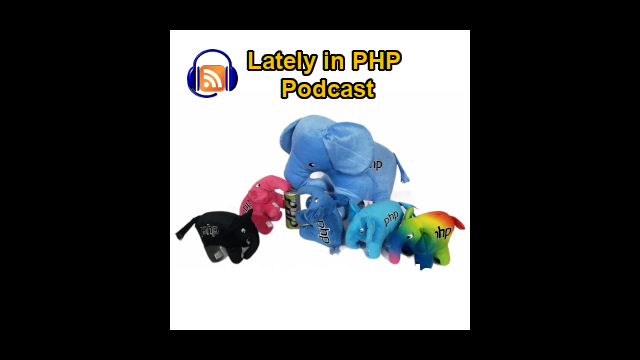 Contents
Podcast playback, download, RSS feed and subscribe in iTunes
Show notes
Transcription
Podcast playback, download, RSS feed and subscribe in iTunes
Click on the Play button to listen now.

Download Size: 26MB Listeners: 5295

Introduction music: Harbour by Danilo Ercole, Curitiba, Brazil

RSS 2.0 feed compliant with iTunes:
http://www.phpclasses.org/blog/category/podcast/post/latest.rss
In iTunes, use the Subscribe to Podcast... item of the Advanced menu, and then enter the URL above to subscribe to this podcast.
Show notes
Transcription
Contents
Introduction (00:21)
Podcasts of interest for PHP developers (1:50)
Following the PHPClasses site on Twitter, Facebook and FormSpring (11:18)
PHPDeveloper.org and Joind.in projects (13:59)
PHP and Flex versus HTML 5 (30:23)
Innovative PHP classes of April 2010 (46:22)
The good and the bad of PHPClasses according to Chris Cornutt (51:36)
Conclusion (57:03)
Introduction
(00:21) Manuel Lemos: Hello, this is the Lately in PHP Podcast. Iím Manuel Lemos, the regular host and developer of the PHPClasses site.
And as usual I have here with me Ernani Joppert; hello Ernani how are you doing?
Hello, Chris, how are you doing?
Anyway, moving on with our podcast, there are a few things I would like to mention.
Podcasts of interest for PHP developers
Talking also about podcasts, I would like to mention other interesting podcasts that I usually listen.
Well, anyway, what about you guys, what podcasts do you also listen regularly, Chris?
They have made their recorded sessions available kind of in a podcast format because of people that werenít able to come or just want to listen along and follow along with the slides, its perfect, itís really nice to have those.
They release them semi-regularly so you always have a new one to listen to every once in a while. Those are pretty nice.
Lately it has been hosted by Cal Evans and Keith Casey and Marco Tabini when he can, I think. I think originally it was started by Marcus Whitney, but it was called...
He talks a lot about innovation and how to innovate and the innovation process. Itís not really specific of technology, but itís interesting for all of us that somehow are trying to develop stuff that is innovative and is somewhat related with Web development.
And I noticed that he was sort of ranting about the PHPClasses site recently in Twitter. I have a way to monitor Twitter because Iím not an heavy Twitter user. Actually I don'ít consider myself a frequent Twitter user, but I try to keep up with things that are related to PHPClasses site that people are commenting in Twitter.
What I realized is that Justin was sort of ranting about the site in Twitter, I do not recall exactly what he was complaining, but it was interesting and I try to always give some feedback to people that mention things about the site in Twitter probably because it is something that they doní't like or something that is misunderstood.
And I try to clarify or give some feedback about the features that are being implemented to address the problems that they are finding.
Looking a bit with more attention at Justiní's profile, I found out his podcast, and I think it was very interesting to mention because they cover issues that affect many of us that are trying to implement their sites also as their own businesses.
So if you are an entrepreneur that is trying to succeed in the Web development world with your own sites, I strongly suggest to also take a look at their podcast.
Following the PHPClasses site on Twitter, Facebook and FormSpring
If you are interested in knowing what is going on in the development site, it will probably be interesting to follow the Twitter account.
And talking about that, now getting back to our guest Chris Cornutt, Chris do you also have pages in Facebook, Formspring, other than the Twitter account that I know that you have?
PHPDeveloper.org and Joind.in projects
And really the only reason I started it was because I like keeping up with technology, I like keeping up with the latest in PHP and all that. And I figured I might as well share it, you know, get it out there and let other people read about it. At the time there was stuff like SlashDot and a couple other aggregation kinds of sites out there, but there really wasnít anything for PHP that I saw.
And doing that everyday and that not being your day job it really shows a lot of dedication, and Iím sure me and others appreciate it, and I hope you can keep up for a long time.
But thereís probably maybe 50, 60 that publish content daily, and then a lot of that you can just kind of dismiss outright because itís just not relevant to PHP at all, itís some other topic.
But thereís stuff that I just donít get to each day, and itís getting more and more, and I try to post seven or eight a day, six articles, something like that, thatís about all I have time for.
Itís different because I have to actually review what people have published, so I can describe it in, hopefully in proper English, because many of the contributors are not from a country where English is the mother language.
English is also not my mother language, but hopefully Iím able to describe what they did in a better, in a more clear way that many of them actually do.
Still I think your work at PHPeveloper.org is, I think the volume of submissions that you... All the articles that you publish are written by you or some are contributions that you actually write?
I really appreciate, as I mentioned, all the effort you do because I would not have time to..., even Planet-PHP I donít have time to review all the submissions, all the articles that are aggregated there.
So there are duplicates actually that you once in a while you mentioned stuff that was aggregated there, but you also pick interesting stuff from other sites, and itís quite a valuable effort that you kind of do for the benefit of all of us.
I'íve seen it a few years ago when it started, but I didnp ít quite pay attention it was yours, and it seemed like a new startup project about events and everything that could help event organizers to actually do it. But then I realized it was something that you started.
Can you give an overview of what it does and how it can be useful for people that participate in events?
Keith Casey and I were talking about the paper forms that you get at conferences to fill out and say how you felt the talk was and all that. And he suggested, he said why isn'ít there a site out there that does this except online. And I was like thatí's a great idea (laughs), thatí's a perfect idea.
The site basically, for those that arení't sure, the main goal of it is to provide events an easy way to post the information about their event and post any kind of sessions and stuff underneath it like a conference really, and to make it easy for people to come and give feedback on that.
They can give anonymous feedback, they can log in, usually most people actually do log in and give their feedback that way. I almost never see anonymous comments come through. But I know to the last PHP TeK, TeK X used it really heavily, the Dutch PHP conference thatís going on right now is using it really heavily, I think they'íve only had like ten sessions today, the tutorial day, and there'ís already almost 30 comments on those.
We'íve had some great contributors and some good patches and features and wanting to help, and now we'íve got mailing lists, and it just keeps going. And once you get that ball rolling there'ís almost no way to stop it, so.
I have considered things on top of that, additional things that the events could use or additional features, that kind of stuff, that could potentially be used for revenue in the future. But as it stands right now the project is free and open to whoever wants to use whatever features.
And Joind.in have... since you mentioned that you were inviting Chris for this Ií've been checking it out and for the most part I didn'ít deeply look at it, but it looks very promising functionality that I'íve never seen anywhere else. And I'ím sure that this is a helpful solution for event organizers and could be for a lot more.
PHP and Flex versus HTML 5
It is about Flex,Flash in general and actually the applications using PHP to use this technology now from Adobe, used to be from Micromedia, but it was sold. And I donít know, Chris, do you use PHP with Flex or Flash in your job?
Personally I don'ít use much, actually any, Flash or Flex. I don'ít have much for or against the technologies.
And my opinion once HTML 5 becomes widely spread, widely adopted in the browsers that most people use, it will probably not be much sense in using Flash except for legacy applications.
And talking about Flex, lately I'íve been discussing a bit about this with Ernani, and I know heí is a big fan of Flex. Ernani what do you have to say about this?
And because Flash, especially the latest plug-in, has a lot of potential by having peer to peer streaming, so you could pretty much run in a Flash-based project communication between one machine to another without any requirements to have a master server.
So applications could pretty much talk to each other by using Adobe'ís protocols and definitions, and Adobe is pretty much involved it into releasing specifications and pretty technologies based on open source.
But of course the plug-in itself is not open source at all, but Flex is an open source technology, and the compiler for Flex is an open source technology.
And I feel that this has a lot of potential, especially now that Google adopted the whole platform on Android I feel that you could benefit from developing AIR applications as well as Flex web sites and with a pretty much more rich user experience.
And another great point about this is that you don'ít have to struggle by dealing with different browsers and different behaviors and hacking CSS scripts and JavaScripts in order to accomplish a very easy task which is display of animations and transitions of pages and things that takes a lot of time to develop when youí're using jQuery or any kind of JavaScript can work.
So I feel that Flex has a lot of potential and we will keep here for a long time, and I hope I am correct about it.
And Adobe has at least a very powerful binary format to communicate between Flex applications and the service that are tied with it. Zend is investing a lot of efforts from AMF protocol with the Zend AMF framework and other languages as well opting this.
And this protocol has a lot of potential because you can pretty much stream some rows, letís say 20,000 rows, in seconds. And you can do client side validation and it doesn'ít really damage any performance on the machine.
And JavaScript performance has increased significantly in the past compared with past browsers and in interpreters. But I feel that itís a bit far from my personal acceptance. And I feel that Flash has way more potential to compete with it right now. So thatí's the event that I wanted to mention.
It'ís okay because normally today we have several ISP providers and most of the Internet heavy users and pretty much people with the Web 2.0 experience are seeking for a more rich user experience.
And a big exchange between a web site and a browser could be a potential harm. But not comparing the situation with a user performance experience, so if Ií'm browsing a web site which is very slow when transitioning from one action to another instead of loading the whole web site in the first time, I feel that I have to trade-off for this first initial load in comparing it to by browsing each time, each section of the application and having to reload or wait for JavaScript operations to complete.
And I feel that Flash has, because itís a native plug-in for each platform, it benefits from the site. And as well as the AMF protocol, and I strongly recommend for PHP developers to check it out, actually one of the evangelists from Adobe, his name James Ward, he did a lot of work on this and he wrote one application which name is Senses, and this application does a lot of background comparison between ways to communicate with a back-end server.
So you can do it through using web services, you can do it using XHTML, you can do it using SOAP, you can do it with an AMF protocol. And the AMF protocol has a lot of advantage because itís a binary format, and itís somehow a compression mechanism, so the data transition between client and server is very small and very powerful.
And the serialization and de-serialization of objects between client and server in any case, in any language, is way, way more fast than anything else I'íve ever seen comparing frameworks here and there. Thatís the point.
And also with HTML 5, which is not the HTML that matters, but the JavaScript APIís, I don'ít see much difference. I don'ít see many features that Flash could provide and they are not provided by the different API specifications for JavaScript in the HTML 5 specification.
Do you see any features of the HTML 5 and the Flash AMF protocol that are significant things that are missing for Web applications with and without Flash?
Ití's sort of like a standard to exchange data between one application and another by serializing objects here in a binary platform and sending it over to HTTP or to an HTTP connection over sockets or any kind of other protocol.
And in the other side the de-serialization of this information is way faster than any XML parser available. So I feel itís more mature and more performant solution.
With HTML 5 uses as a file source, and it streams the video over to you, but it has no protocol for streaming video which has a lot of demand nowadays, and Ií'm not aware of anything in that side for now.
I am involved in the Red 5 project which is a streaming server for Flash video, and thereí's a lot of good things for the Open Source community because itís an open source solution. So that is the whole general perspective for Flash that I do have.
Anyway, I just want to comment on something that I remember; there are compilers that sort of convert Flash SWF containers into HTML 5 with JavaScript that probably could be a way to go for those people that really insist on using Flash features in those Apple devices, but Ií'm not sure if they will be able to perform every aspect of Flash applications.
Anyway, that is a subject that will give us a lot to discuss about, but we have to move on.
Innovative PHP classes of April 2010
In April some classes were nominated and the winners announced early in June after computing the votes from the users. I donít know if you guys have noticed any classes that would be worth mentioning.
Iíll just comment about a few of those I think that were more interesting at least from my viewpoint.
This is interesting because some webmail systems, I think itís Gmail, and Iím not sure about Yahoo mail, that totally wipes out any CSS declarations that you have in HTML newsletters, so this is quite an interesting solution.
Did you notice any other interesting classes from this that were nominated this time Chris?
But, OK, I think we pretty much covered all that I think were more worth mentioning.
The good and the bad of PHPClasses according to Chris Cornutt
I guess as far as things I donít like, the only that I worry about with the site is the amount of overlap in the quality of the code that might be overlapping. I know there are a lot of classes that do really similar things in there, and I guess it worries me a little bit that somebody would pick up one that may not be as high quality as it should be, and they might have a security vulnerability in there or some other issue that the author may not have thought of. And I mean obviously you guys canít go through every single submission and figure out this stuff.
And there is a resource that allows the users to vote on the classes that they think are better from those that they like. They actually can vote not really up or down, but can classify in different aspects.
And there are ways somewhat to help people to distinguish which are the classes that they think can be more appreciated. They just need to go in the categories of the classes and sort them.
That is something that already exists for a few years. But since I noticed several people started to come up with that complaint, probably the user interface is not making it very obvious.
So it gives me something to think about, how can I improve that to make it more obvious for the users searching for the best, or at least the more appreciated, components for searching purposes. How can they find those components instead of having to go through many classes for same purposes?
And someone who trusts me will then find recommendations by myself and go seeking those classes, and this would even improve the social behavior of your website. So itís just one idea that I had, and it could be that I could forget so I guess worth mentioning.
Conclusion
You need to be a registered user or login to post a comment
Login Immediately with your account on:
Comments:
No comments were submitted yet.